Twin Oaks Computing, Inc. Launches New Website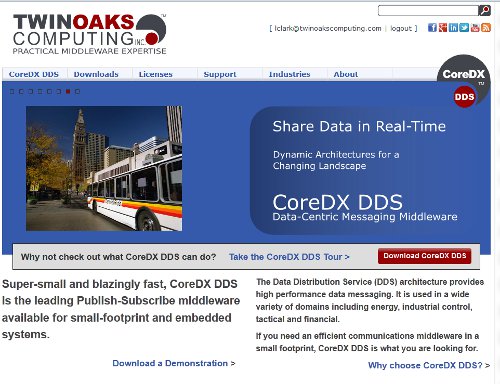 January 2, 2012, Castle Rock, Colorado, Twin Oaks Computing, Inc. is proud to announce the launch of its new website, www.twinoakscomputing.com. This redesigned website is easy to navigate, and reflects the newly designed company logo. In an effort to further solidify their position as a leader in DDS middleware, Twin Oaks Computing, Inc. is updating their brand and company identity.
The redesigned site, created by Twin Oaks Computing's in-house digital team, embodies the website version of the Twin Oaks vision: "A world where complex, distributed software-based systems work well."
The redesigned website offers:
• Improved navigation and searching for ease of use
• Links to company social media sites, including Facebook, Google+, LinkedIn, Twitter, and YouTube
• Original content provided by staff
• New content, including News Articles, Newsletters, and informative White Papers,
The site's homepage welcomes visitors with bold new colors, a clean uncluttered design, and moving images with featured content centered on the industries they serve.
About Twin Oaks Computing
Twin Oaks Computing, Inc. is a company dedicated to developing and delivering quality software solutions. We build the software that collects, manages, and distributes information in a wide range of industries. Our software is in use around the world supporting critical missions.
Super-small and blazingly fast, our flagship product, CoreDX DDS is the leading Publish-Subscribe Data Distribution Service middleware available for small-footprint and embedded systems.
###
Twin Oaks, Twin Oaks Computing, CoreDX DDS are all registered trademarks or trademarks of Twin Oaks Computing, Inc. All other trademarks are property of their respective companies.