Twin Oaks Computing Exhibits / Educates at AUVSI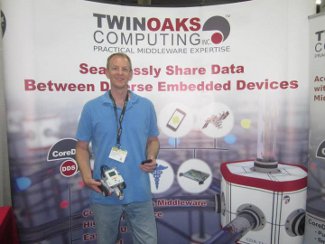 August 27, 2012 AUVSI's Unmanned Systems North America is the premier forum for reviewing, assessing and discussing the current state of the unmanned systems market. The event brings together the key leaders and decision-makers in the industry. Officials from government and user organizations around the world attend and participate in the program.
Experts in embedded communications, Twin Oaks Computing exhibited at this yearly event; meeting and discussing simple and effective middleware communication solutions with hundreds of attendees and exhibitors.
"The positive feedback we received at AUVSI from vendors and attendees was very exciting. We look forward to a fascinating future helping the UAV industry solve their communications challenges."
– Nina Tucker, VP Client Services, Twin Oaks Computing
Twin Oaks Computing participated in the RoboTour as well. The AUVSI Foundation's RoboTour is designed to introduce future generations of scientists and engineers to the exciting world of unmanned systems, and Twin Oaks Computing was more than happy to help. They brought "DX", the CoreDX DDS Robot Rover, to help educate future robotics engineers on the mechanics of embedded communications. Students were able to control DX with an Android phone, using CoreDX DDS to pick up and distribute information the rover gathered, such as floor color and signal strength.
About AUVSI Foundation
AUVSI Foundation is a charitable organization that provides students with the opportunity to experience fun, hands-on robotics activities that advance STEM education (science, technology, engineering and math).
About Twin Oaks Computing
Twin Oaks Computing, Inc. is a company dedicated to developing and delivering quality software solutions. We build the software that collects, manages, and distributes information in a wide range of industries. Our software is in use around the world supporting critical missions.
Super-small and blazingly fast, our flagship product, CoreDX DDS is the leading Publish-Subscribe Data Distribution Service middleware available for small-footprint and embedded systems.
###
Twin Oaks, Twin Oaks Computing, CoreDX DDS are all registered trademarks or trademarks of Twin Oaks Computing, Inc. All other trademarks are property of their respective companies.