CoreDX DDS Middleware of Choice at Korean Combat Training Center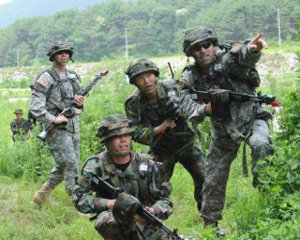 South Korean men are required to complete 21 months of military service between the time they graduate high school and the age of 35. The Republic of Korea formed the Korea Combat Training Center (KCTC) in 2002 to conduct exercises, combat training, and field experiments with troops.
During training exercises at the KCTC, troops are engaged in virtual battles equipped with the Multiple Integrated Laser Engagement System (MILES), which uses lasers and blank cartridges to simulate an actual battle. The actions of the soldiers are recorded through sensors attached to their clothing, and sent instantaneously to a central processing center. This central control center receives detailed data of battle situations and KCTC instructors are able to monitor and evaluate the mock exercises as they are occurring.
The Korea Combat Training Center, partnering with SsangYong Information & Communications Corp. (SICC), uses CoreDX-DDS middleware for their data distribution. The goal of the software utilizing CoreDX DDS is to monitor and distribute combat data information between workstations (i.e. the field and the processing center). That information is then used to evaluate training and performance in real time on the battlefield.
Founded in 2005, Twin Oaks Computing, Inc delivered the first version of CoreDX DDS in 2008. We continue to provide world class support to these customers while ever expanding. Twin Oaks Computing is a company dedicated to developing and delivering quality software solutions. Please visit Twin Oaks Computing.com to learn more.
About Twin Oaks Computing
Twin Oaks Computing, Inc. is a company dedicated to developing and delivering quality software solutions. We build the software that collects, manages, and distributes information in a wide range of industries. Our software is in use around the world supporting critical missions.
Super-small and blazingly fast, our flagship product, CoreDX DDS is the leading Publish-Subscribe Data Distribution Service middleware available for small-footprint and embedded systems.
###
Twin Oaks, Twin Oaks Computing, CoreDX DDS are all registered trademarks or trademarks of Twin Oaks Computing, Inc. All other trademarks are property of their respective companies.